We take pride in our ability to offer excellent specialty training and expert general dermatology training to our residents. This is a snapshot of what we currently offer to residents training at Duke.
Specialty Clinics at Duke Dermatology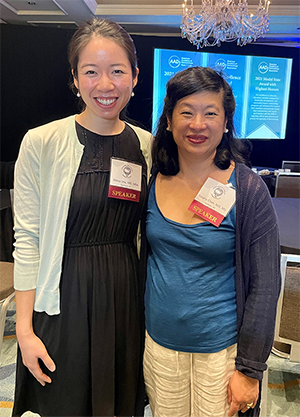 Autoimmune and Blistering Disease Clinic
Patients with a wide variety of autoimmune blistering disorders and rheumatologic disorders with cutaneous manifestations are evaluated and treated by our experts in these disorders, Dr. Matilda Nicholas, Dr. Anne Marano and Dr. Samantha Polly. Additionally, there are ongoing basic science and clinical research activities to better understand these disorders and improve their treatments.
Contact Dermatitis and Patch Testing Center
Dr. Rabina Walsh performs extensive patch testing and photopatch testing for patients from across the Southeast. 
Cutaneous T-Cell Lymphoma Clinic
Drs. Elise Olsen and Meenal Kheterpal see referral patients with cutaneous T-cell lymphoma (CTCL) and other cutaneous lymphoproliferative disorders, such as lymphomatoid papulosis and chronic erythroderma.  Emphasis is on expanding the known CTCL database and finding an optimum treatment for all patients primarily through multi-center cooperative treatment protocols.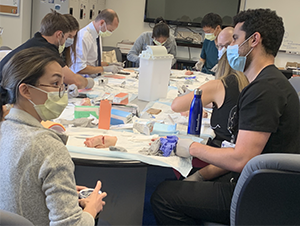 Dermatology Clinical Research Unit
The Dermatology Clinical Research unit coordinates outpatient clinical research activities of the department. Dr. Meenal Kheterpal serves as the Managing Director of this unit and Dr. Tarannum Jaleel serves as the Director of Sponsored Clinical Trials Education. The unit currently oversees a large volume of clinical trials investigating treatments for disorders such as hidradenitis suppurativa, basal cell carcinoma, hair disorders, systemic lupus erythematosus, psoriasis, atopic dermatitis, among others. Residents involvement in research is encouraged and facilitated by our faculty. Annually, our residents complete meaningful research projects with our attendings and publish their findings in reputable journals and at local, regional, and national conferences.
Genital Dermatology
Dr. Clare Pipkin offers complete evaluation of vulvar and female genital dermatologic skin conditions.
Hair Disorders Clinic
Dr. Elise Olsen directs this clinic and manages patients with androgenetic alopecia, alopecia areata, hair shaft abnormalities, and other causes of alopecia as well as hirsutism and hypertrichosis.  Appropriate endocrinologic work-up is stressed as well as appropriate laboratory tests for assessing causes of hair loss or breakage.
Hidradenitis Suppurativa Clinic
Dr. Tarannum Jaleel runs clinics devoted to the management and care patients with hidradenitis suppurativa. In addition to her hidradenitis suppurativa clinic at Clinic 3K, she also performs surgery for patients with hidradenitis suppurativa. She has multiple ongoing research projects, including clinical trials for new and emerging therapies for this difficult to treat disease.
Infectious Disease-related Dermatology Clinic
Dr. Sarah Wolfe directs this clinic with treatment and evaluation of dermatologic manifestations in patients living with HIV and other infectious disease-related patients.  She sees patients both at Duke and at the Veterans Affairs Medical Center.
Additionally, Dr. Wolfe has spent time primarily in Africa with dermatology programs and has an interest in education and engagement with International Dermatology.
Keloid Clinic
This clinic studies abnormal wound healing and keloid formation.  Intralesional therapy, systemic chemotherapy and surgical approaches are evaluated.  This clinic is held once monthly to explore the pathogenesis and treatment of this condition.  This clinic is supervised by Dr. John Murray.
Melanocytic Disease/Pigmented Lesion Clinics
We have multiple attendings with special expertise and interest in melanoma and management of pigmented lesions, including Dr. Michelle Pavlis, Dr. Meenal Kheterpal, Dr. Megan Jamison, and our chair Dr. Suephy Chen. Total body photography is utilized for cutaneous surveillance.  This technology is integrated into many of the general dermatology clinics as well, and residents gain significant proficiency with this surveillance tool.
Phototherapy
The Phototherapy Unit is within the Duke South clinic.  Approximately 10-15 patients are treated daily with  Narrow-band UVB (total body and local therapy), PUVA (total body and hand-feet) and UVA1.  Phototesting and photopatch testing are performed.  
Psoriasis
Many dermatology faculty manage psoriasis patients.  Dr. John Murray specializes in psoriasis and participates in clinical trials for psoriasis.
Transplant Clinic
Dr. Melodi Whitley oversees the care of solid organ transplant recipients and also conducts research to better understand cutaneous malignancy and improve outcomes in this high risk population. Residents learn the intense skin surveillance required for these patients with complex medical and dermatologic needs.