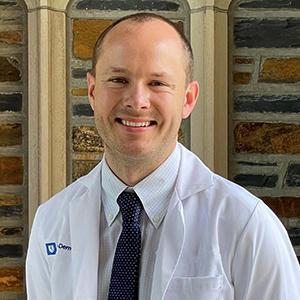 Second Year Resident
Start Year
2022
What are your career interests?
Pediatric Dermatology, Global Medicine, Social Medicine, Medical Education
Why did you choose Duke for residency training?
I was drawn to Duke Dermatology mainly because of the department's values that placed a genuine emphasis on engaging with the Durham community, diversity and training well-rounded and compassionate physicians. Additionally, I pivoted from a career in general pediatrics because of a particular interest in pediatric dermatology and global medicine. Duke has offered abundant opportunities for me to start exploring these professional passions under the guidance of experienced and impactful mentors in these fields.
Education & Training
Undergraduate:  University of North Carolina – Chapel Hill, BA, Religious Studies, 2014.
Medical School:  East Carolina University School of Medicine, MD, 2019.
Residency:  Pediatrics, Medical University of South Carolina, 2019-2022
Dermatology, Duke University, 2022 – 2024.
Awards & Honors
1st Annual Duke Dermatology Ping Pong Tournament Champion, 2022

Outstanding Pediatric Resident, Medical University of South Carolina, 2021

Service-Learning Scholar, East Carolina University School of Medicine, 2019

R.O. Slivon Scholarship Recipient, 2018                                                                    

John B. Tingelstad, MD Scholarship in Pediatrics, 2018               

The Dr. Leon and Sally Davis Scholarship, 2017

East Carolina University School of Medicine Academic Scholarship, 2017

UNC Barkley Public Service Scholar, 2014

Chapel Hill-Carrboro Hometown Hero, 2014
Publications & Presentations
Hansen S, Smallcomb L "How Culture and Systems Affect Global Health" Medical University of South Carolina Pediatric Grand Rounds, June 2022.
Vara E, Hansen S, Gilbery M. "A Case of Progressive Joint Pain and Rash in a 5-year-old" Contemporary Pedatrics. May 2022.
Hansen S, Barton K, Macgeorge, C. "Characterization of Dermatological Visits Seen Using Telemedicine vs In-Person in Pediatric Primary Care" Poster Presentation, South Carolina Chapter American Academy of Pediatrics Annual Meeting, Myrtle Beach, SC, July 31, 2020.
Broadway N, Hansen S, Hunter J, Hurley J, Johnson K, Johnson O, Khan S, Marx E, Villa F, Keen S, Pitzer A, Watson R. "Community Engagement: An Interdisciplinary 'Happy Feet Clinic' to Identify the Prevalence of Foot Pathology Among Self-Referred Homeless Shelter Patients". AAMC National Conference, Boston, MA, November 3-5, 2017.
Hansen S, Villa F, Keen S. "Over-The-Counter and Prescription Antibiotic Overuse in the Karabole District of Western Uganda" International World Extreme Medicine Conference & Expo 2016, Edinburgh, Scotland, November 25-38, 2016.
 
Dr. Stefan Hansen has a weekly clinic in our resident continuity clinic at the Durham VA.  This clinic is run by both resident and attending physicians at the VA. To make an appointment with Dr. Hansen, please call 919-416-8070