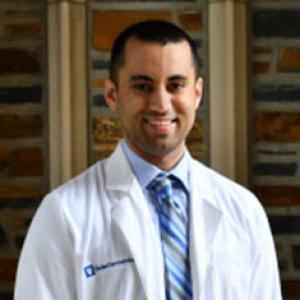 Third Year Resident
Start Year
2021
What are your career interests?
General Dermatology, Procedural Dermatology, Medical Education.
Why did you choose Duke for residency training?
As a medical student at Duke, I was lucky to spend significant time working with the Duke dermatology faculty and residents. I was impressed by Duke's welcoming, inclusive culture and emphasis on resident and student education. I was additionally drawn to Duke's diverse patient population and the ample opportunities for mentorship and research within the department.  
Education & Training
Undergraduate:  University of Pennsylvania, BA, Biology, 2015
Medical School: Duke University School of Medicine, MD, 2020
Internship: Internal Medicine, Lankenau Medical Center, Wynnewood, PA, 2020-2021
Residency: Dermatology, Duke University, 2021-2024
Awards & Honors
Publications & Presentations
Byrne KT, Leisenring NH, Bajor DL, Vonderheide RH. CSF-1R−dependent lethal hepatotoxicity when agonistic CD40 antibody is given before but not after chemotherapy. Journal of Immunology, 2016, 197: 179–187.
Leisenring NH, Floyd RW, Kirsch DG. Identifying novel mechanisms of p53-mediated tumor suppression. Oral Presentation at: 2019 American Association for Cancer Research Annual Meeting; 2019 April 2; Atlanta, GA.
Chen M, Xu ES, Leisenring NH, Cardona DM, Luo L, Ma Y, Ventura A, Kirsch DG. The fusion oncogene FUS-CHOP drives sarcomagenesis of high grade spindle cell sarcomas in mice. Sarcoma, 2019 Jul 25, 2019:1340261.
Chen M, Foster JP, Lock IC, Leisenring NH, Daniel AR, Floyd W, Xu ES, Davis IJ, Kirsch DG. Disruption of oncogenic targeting by ISWI via phosphorylation of a prion-like domain. bioRxiv March 12, 2020.
Leisenring NH, Rogers J, Telloni S, Mansoori P, Al-Rohil R, Marano A. Successful treatment of painful cutaneous vasculopathy with rivaroxaban in a patient with systemic lupus erythematosus. Journal of Drugs in Dermatology, 2020 May 1;19(5):544-546.
Eldik H, Leisenring NH, Al-Rohil R, Marano A. Cutaneous collagenous vasculopathy in a middle-aged woman with a history of prothrombin G20210A thrombophilia. Journal of Cutaneous Pathology. 2021 Jan 20; published online ahead of print.