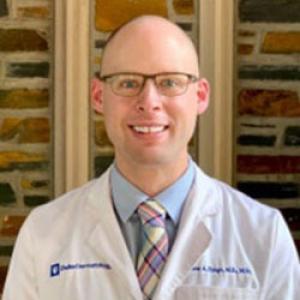 Third Year Resident
Start Year
2020
What are your career interests?
I am highly interested in pursuing an academic career in [complex] medical dermatology that spans medical specialties and crosses borders. My initial training was in internal medicine, which allowed me to pursue subspecialty interests in infectious diseases (i.e. HIV/AIDS and Staphylococcus aureus), oncology (i.e. cutaneous T-cell lymphoma like Mycosis fungoides and Sezary syndrome), rheumatology (i.e. morphea/scleroderma), and allergy/immunology (i.e. Graft-versus-host disease). Ideally, my dermatology career would allow me to evaluate and treat patients with each of these types of conditions. However, I am most interested in identifying, treating, and advancing the understanding the above dermatological diseases in immunocompromized individuals, particularly those people living in underserved and/or global/tropical settings.
Why did you choose Duke for residency training?
Duke has it all: compassionate and highly knowledgeable providers, expertise in the science and practice of medicine, local and global reach in medical care and research, and modern facilities in one of the fastest growing areas of the country. Duke's world-renowned reputation in medicine initially attracted my eye; I would be able to become an expert dermatologist-internist in the setting of my choice through dermatology training at Duke. However, I found that Duke also had the most patient-centered, collegial, passionate, empathetic, curious, and intelligent residents, faculty, and staff. The people ultimately made Duke the clear, top choice for research fellowship and residency.
Education & Training
Undergraduate:  Alma College, Alma, Michigan, Bachelor of Science, Global Health Care and Policy, 2009
Graduate School: The London School of Hygiene and Tropical Medicine (LSHTM), London, United Kingdom, Master of Science, Control of Infectious Diseases, 2010
Medical School: Michigan State University College of Human Medicine (MSU-CHM), Grand Rapids, Michigan, Medical Doctorate, Human Medicine, 2015
Residency: Dermatology, Duke University,  2020 – 2023
Internal Medicine (Categorical), Baylor College of Medicine, Houston, Texas, 2015 – 2018
Fellowship: Duke Dermatology Clinical Research Fellowship (Mentor: Dr. Adela R. Cardones), Duke University, 2018 - 2019
Awards & Honors
Arthur M. Foley III MD PhD Endowed Memorial Scholarship recipient (2014)
MSU-CHM chapter of the Gold Humanism Honor Society member (2014)
Doris Duke Charitable Foundation/University of North Carolina at Chapel Hill Clinical Research Fellowship recipient (2013)
Harry S. Truman Foundation Scholarship finalist (2008)
Michigan Campus Compact Humanitarian Award winner (2008)
Alma College President's Cup winner (2006)
Publications & Presentations
Emge DA, Bassett R, Duvic M, Huen AO. "Methicillin-reistant Stapylococcus aureus is an important pathogen in erythrodermic cutaneous T cell lymphoma patients." Arch Clin Dermatol. 2019 Nov. PMID: 31776647.
Emge DA and Cardones AR. "Updates on Merkel Cell Carcinoma." Dermatol Clin. 2019 Oct; 37(4): 489–503. PMID: 31466589.
Emge DA, Lewis DJ, Aung PP, Duvic M. "Eosinophilic infiltrate resembling eosinophilic cellulitis (Wells syndrome) in a patient with mycosis fungoides." Dermatol Online J. 2018 Jan 15;24(1). Pubmed PMID: 29469767.
Emge DA, Lewis DJ, Aung PP, Duvic M. "How to discern folliculotropic mycosis fungoides from follicular mucinosis using a pediatric case." J Cutan Med Surg. 2018 Jan 1:1203475417752366. Pubmed PMID: 29318909.
Lewis DJ, Byekova YA, Emge DA, Duvic M. "Complete resolution of mycosis fungoides tumors with imiquimod 5% cream: a case series." J Dermatolog Treat. 2017 March 2. Pubmed PMID: 28635518.
Bassuner J, Emge DA, DiCicco BA, Lewis DJ, Miranda RN, Duvic M. "Mycosis fungoides of the oral cavity: A fungating tumor successfully treated with electron beam radiation and maintenance bexarotene." Case Rep Dermatol Med. 2016 Dec 15;2016(2016:5857935). Pubmed PMID: 28074163.
Emge DA, Bassuner J, Lewis DJ, Duvic M. "A rare case of mycosis fungoides in the oral cavity and small intestine complicated by perforation." Case Rep Dermatol. 2016 November;8(3):294-302. Pubmed PMID: 27920681.
Mweemba A, Zanolini A, Mulenga L, Emge DA, Chi BH, Wandeler G, and Vinikoor MJ. "Chronic hepatitis B virus co-infection is associated with renal impairment among Zambian HIV-infected adults." Clin Infect Dis. 2014 Dec 15;59(12):1757-60. Pumbed PMID: 25228705.
Emge DA, Delany-Moretlwe S, Mayaud P. P5-S6.21 Acyclovir for managing genital ulcer disease in South Africa: experiences of guideline introduction, implementation and uptake. Sex Transm Infect. 2011 Jul; 87(Suppl 1): A334.
Emge DA, Hooten J, Sullivan K, Chao N, Rowe-Nichols K, Cardones AR. "A case of sclerotic Graft-versus-Host Disease from remote radiation exposure that was treated with low dose phototherapy." Poster presented at: 2019 American Academy of Dermatology Annual Meeting; March 2019; Washington, DC.
Emge DA and DiNardo A. "Clinical research elective in Swaziland: quantifying disease burden of endemic infections." Poster presented at: 2017 Department of Internal Medicine Research Symposium; April 2017; Baylor College of Medicine, Houston, TX.
Emge DA, Harris NM, Lasco T, Stager C, Rose SR. Poster 576. (2016). "Polymerase chain reaction (PCR) on pathology tissue samples improves clinical care for Mycobacterium avium complex (MAC) when diagnostic uncertainty remains after standard evaluation." Poster presented at: IDWeek 2016; New Orleans, LA, USA.
Holman H, Dinh J, Emge DA. (2013). "Unusual case of pulmonary nodules." Poster presented at: Grand Rapids Medical Education Partners, Research Day; Grand Rapids, MI.
Emge DA. (2011). "Tropical medicine in Brazil: Encounters with and reflections on infectious diseases in Belem, Para." Poster presented at: Michigan State University International Symposium: Diminishing Latin America's Inequalities; East Lansing, MI.
Emge DA, Graham B. (2011). "Respiratory syncytial virus (RSV) fusion (F) glycoprotein is sialylated." Poster presented at: National Institutes of Health, Office of Intramural Training and Education, Summer Poster Day; Bethesda, MD.
Emge DA and Gross D. (2018). "A curious seeding." Oral Presentation presented at: Grand Rounds, Department of Medicine, Baylor College of Medicine; Houston, TX.
Emge DA, Mweemba A, Zanolini A, Wandeler G, Mulenga L, Chi BH, Vinikoor MJ. (2014). "Chronic hepatitis B virus (HBV) co-infection is associated with renal impairment among Zambian HIV-infected adults." Oral Presentation presented at: Doris Duke International Clinical Research Fellowship Annual Meeting; Durham, NC.
Emge DA, Geyer J, Langerak J, Utter J. (2013). "Relationship between patient demographics and initial presentation of tuberculosis in Kent County, MI from 2007-12: A cross sectional study." Oral Presentation presented at: Grand Rapids Medical Education Partners, Research Day; Grand Rapids, MI.