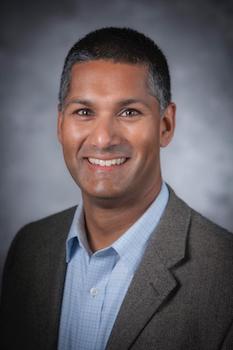 Dr. Vikas Patel completed his Dermatology residency at Duke in 2004. Immediately after finishing residency, he moved to Washington, D.C. and worked at a practice both in downtown and in Northern Virginia. He practiced in the Washington DC area until 2009 when he moved back to the Triangle to start North Carolina Dermatology Associates in Raleigh, NC. The practice focuses mostly on general, medical and surgical dermatology practice with some cosmetic dermatology. Outside, of his practice responsibilities, he is currently serving as President of the Duke University Alumni Board of Directors. In addition, he also serves on the Duke University Board of Trustees.
Dr. Patel made time to talk with Duke Derm about his experience as a resident and his role in Alumni engagement.
What made you choose Dermatology as your career path?
In 1996, during my senior year at Duke, I took a medicine and photography documentary class. I had a wonderful experience and did a photo documentary project with Dr. Henry Friedman at the Duke Brain Tumor Center. I was lucky enough to get into Duke Med and matriculated the next year. In medical school I worked at the Brain Tumor Center and had an incredible mentor in Henry, and thought I was going to do Pediatric Neuro-Oncology because he was such a huge presence in my life and such an incredible mentor.
During my third year at Duke Med, I worked in a lab with the Brain Tumor Center. However, I started having some doubts on whether or not Pediatric Neuro- Oncology was my calling. It was at that time I decided to explore a few other fields and I reached out to Claude (Skip) Burton about wanting to learn more about dermatology. He offered for me to come to his clinic and since I had the flexibility during my research year, I went to Skip's clinic weekly and just fell in love with it. I quickly realized that dermatology was a perfect combination of many different fields within medicine: internal medicine, surgery, pediatrics, pathology, etc. Within a day, you can wear all of those hats and I loved that variety. Skip also encouraged me to reach out to Sarah Myers to see general dermatology since Skip's clinic was focused on lasers. After this experience, I knew I had found my calling.
What was the best part of training at Duke Derm?
The best part of training at Duke Dermatology was how balanced it was. We had such great exposure to all those subspecialties within dermatology: immunobullous dermatology - Dr. (Russell) Hall's clinic; hair clinic and CTCL clinic -Dr. (Elise) Olsen; pediatrics - Dr. (Neil) Prose; Mohs - Dr. (Jonathan) Cook; general dermatology; and the exposure of a busy VA clinic. We got a really wide exposure to dermatology with very little to no gaps. When I interviewed at other places for residency, I saw that there were gaps in their training. I was just so appreciative that I was able to match at Duke, a place that is near and dear to my heart. I love that I had the continuity of being a student for eight years and then continuing on for another three years. It was just an incredible opportunity, but more so, it was the community that Duke Dermatology had with incredible faculty members and fellow residents.
"We got a really wide exposure to dermatology with very little to no gaps."
Who is somebody that stands out as a mentor during your time as a resident?
Dr. (Russell) Hall was great! He was that Chairman who really wanted to make sure that every single one of his resident succeeded. But during my second year of residency, Dr. (Navjeet) Sidhu-Malik joined the faculty with whom I really connected. She became a mentor at a whole different level and we continue to be close to this day. Dr. Malik was great in that she brought a different perspective that other faculty members did not have. Dr. Malik had worked in academics at the University of Virginia, but she had also worked in private practice. I did not know which way my career would go, whether to stay in academic dermatology or do private practice dermatology. Dr. Malik just gave me a perspective of other opportunities and I appreciated the different viewpoint that she brought in.
How do you envision your continued engagement with Duke Derm?
To answer this question, I want to go back a little bit and talk about some of my non-dermatology work and how I got into that. I've always been involved with the Duke Alumni Association in some fashion, whether helping out with my medical school reunions, being part of the Alumni Admissions Advisory Committee, where alumni do interviews of high school students who are applying to Duke University, and interacting with faculty members that I knew from when I was an undergraduate.
And so fast forward, to my move back to North Carolina in 2009: I started a practice and had twin girls. Things were busy! My life except for the practice and family was placed on hold. I got away from some of the other stuff that I've always enjoyed doing, and that's giving back through community service and being involved with Duke. In 2016, I had the opportunity to join two boards: I joined the Triangle Leukemia and Lymphoma Society Board as a trustee and spent six years on that board.
In addition, I also got named to the Duke Alumni Board of Directors. It's comprised of about 50 individuals from across the country and the world. The Duke Alumni Board of Directors is an advisory board to the Duke Alumni Association (now Duke Alumni Engagement and Development). Our goal is to connect our alumni with each other and the greater Duke community with the purpose to create opportunities to learn and share knowledge. It was just a great experience being able to work collaboratively in a very different way than what I do as a dermatologist. On July 1, 2022, I started my two-year tenure as President of the Duke Alumni Board of Directors. I describe my job as President as representing 190,000 Duke alumni, undergraduate, graduate, and professional school graduates as well as the house staff.
How do we engage our alumni meaningfully with the university?
In 2017, Duke named Dr. Vincent Price as its new president. President Price has a strategic framework describing his priorities and goals: Empower the Boldest Thinkers; Transform Teaching and Learning; Renew our Campus Community, Partner with Purpose and Engage our Global Network. The last priority was one that the board of trustees spent a full year looking at what activating the global network should look like. The major findings of that year-long task force was two major focus areas: lifelong learning and careers & mentorship. Very few universities have a president that focuses on the importance of alumni to the primary mission of the university. It's actually pretty incredible, if you think about it, and I think a wonderful opportunity for all the campus partners to really think about what that means.
In my eyes, what alumni engagement means for Duke Dermatology should be lifelong learning and how does Duke Dermatology provide learning opportunities to their alumni. I also think that it needs to go the other way around as well. What can alumni bring to the educational process of Duke Dermatology and to its residents? Our graduates, regardless of whether they are practicing dermatology or in industry or doing something else, have knowledge that they can bring and impart to the residents. The second way in which one can engage is to serve as a mentor or a resource for alternative career pathways.
What advice do you have for current trainees and students considering a career in Dermatology?
Take advantage of every single moment of your residency; It goes by really, really fast. Appreciate what the faculty members bring to the table; they are such an incredible source of knowledge, not just from dermatology, but from experience and life. We know the primary role of resident is to learn dermatology, but there's so much other knowledge that the faculty members have. Get to know them on a different level, not just as your attending physician. Really get to know them as a person, because these individuals are educators; they're part of Duke because they have chosen to practice in an academic setting. Don't underestimate how important and how willing many of the faculty members are.
Finally, Durham is an incredible place. It's very different than when I first arrived in 1992. Durham is home to Duke University and Durham is an incredibly diverse community. Go out explore the city and the area and give back to the community.
---