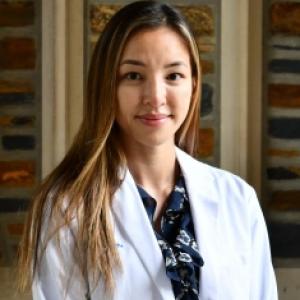 Third Year Resident
Start Year
2021
What are your career interests?
General dermatology, skin of color, procedural dermatology and lasers, access to care for underserved populations.
Why did you choose Duke for residency training?
I chose Duke Dermatology for my residency training because of a shared commitment to serving diverse patient populations and increasing access to care in underserved communities. Duke offers a wide range of both clinical and research opportunities for residents while fostering individual goals. I feel very fortunate and excited to train with the renowned faculty at Duke and alongside an exceptional group of residents.
Education & Training
Undergraduate: University of California, San Diego, BA, Psychology, 2014
Medical School: Morehouse School of Medicine, M.D., 2020
Internship: Transition Year, Scripps Mercy Hospital in San Diego, CA, 2020-2021
Residency: Dermatology, Duke University, 2021- 2024
Awards & Honors
Alpha Omega Alpha Honor Medical Society, Morehouse School of Medicine
Presidential Scholarship 2019
Margaret Mitchell Scholarship, Morehouse School of Medicine, 2018 and 2019
Friends of Valerie Montgomery Scholarship 2018
Frances Wood Wilson Foundation Scholarship 2017
MSM Annual Fund Scholarship 2017
MSM Institutional Merit Award, Morehouse School of Medicine, 2016
Publications & Presentations
Publications
Kha C, Itkin A. New-onset chilblains in close temporal association to mRNA-1273 vaccination. JAAD Case Rep. 2021;12:12-14. doi:10.1016/j.jdcr.2021.03.046.
Kha C.J., Luskus M., Yeung H. (2021) Ethics in Caring for Sexual and Gender Minority Patients. In: Bercovitch L., Perlis C.S., Stoff B.K., Grant-Kels J.M. (eds) Dermatoethics. Springer, Cham. https://doi.org/10.1007/978-3-030-56861-0_23.
Kha C, Raji K, Chisolm S. Treatment of Atopic Dermatitis With Dupilumab in a Renal Transplant Patient. Dermatitis. 2020 Mar/Apr;31(2):e17-e18. doi: 10.1097/DER.0000000000000560. PMID: 32168150.
Yeung, H., Kha, C., Shumway, N., Ailor, S.K., McCleskey, P. (2019, July 29). Basic Dermatology Curriculum: Blotches: Light Rashes. https://olc.aad.org.
Posters and Presentations
Kha, C., Feigley, A.V., Zhongyi, C., Davies, S. Direct comparison of NAPE and NAE synthesizing recombinant probiotics. Poster presented at: NIDDK Medical Student Research Symposium; August 2-3, 2017; Nashville, TN.
Kha, C. Beta Thalassemia Major. Poster presented at: University Link Medical Science Program Banquet; July 24, 2014; San Diego, CA.